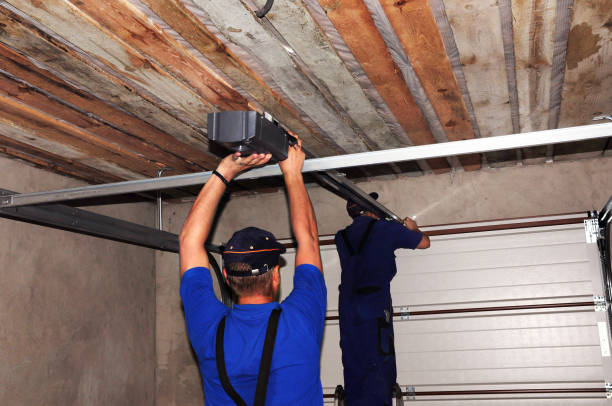 Are you fed up with your old-fashioned, manually opening garage doors? Chances are that you would love to change your doors for a new roller system but can't afford to. So, the best solution here is to update your existing doors to an automatic system. Installing a garage door opener system on your existing doors is tricky, and best left to the professionals, but if you really think you know-how, then you can save yourself hundreds of dollars.
Check-in your local hardware stores to find a kit to do this. Any kit you purchase should include chains, trolleys, tracks, bolts, brackets, and remote pads. As I already said, this is not an easy job and one that requires both time and patience. Depending on how much you are willing to spend will be shown by exactly what is included in the kit you buy. The next step is unfortunately reading the instructions. These will no doubt be long and complex, but in order to do the job properly, you need to really understand what it is you are doing.
Generally, this process begins with bolting the rail and roller assembly to the rail. Next, you need to press the carriage against the rail and screw it in. The chain assembly is the next part, the chain is wrapped around the sprocket on the opening device. Then hook the other end of the chain onto the carriage and attach the bracket.
Next, the opener unit needs to be bolted to the ceiling bracket, and this step is best done with the unit propped half open. After this is securely bolted in place, the next stage is to install the push button devices onto the wall People generally chose to install this feature by the garden wall or gate. If there is an electric sensor included, then this is installed at ground level. Once this is installed, you need to make sure that you attach the gate to the opening system. After this is firmly in place, then it is time to test out your handiwork.
If all these instructions seem complex, and you are having doubts about your capabilities of handling the job, then bring in the professionals. Choose a local firm, or search online for a reputable company. When using a company that you have found online, then make sure you search for testimonials and make sure the company is in no way fraudulent and is all above board.